The most challenging part of owning a website is actually getting visitors. Services like HitLeap claim they can help you increase your site's traffic. But a lot of companies make claims, so it totally makes sense that you are going through several HitLeap reviews to determine if it's legit or not.
Well, we scoured the web to find everything there is to know about the traffic exchange service, and we have it all in this HitLeap Review. Unfortunately, you may not like what you're about to read. So, let's get started, shall we?
Who Is HitLeap?
HitLeap.com is a traffic exchange website that helps website owners increase their sites' traffic. You can earn traffic for free or you have the option of buying it. HitLeap was founded in 2008 but they haven't made their ownership information public at the time of writing. They're currently headquartered in Tsuen Wan, New Territories, Hong Kong.
How Does HitLeap Work?
So to get more traffic to your website using Hitleap, you'll need to first download their application called the HitLeap Viewer to your computer. Once you sign up within the app you can add your website's URL to start earning minutes. Minutes are basically the service's currency that you'll be using to buy traffic. You can either earn free minutes by viewing other members' websites, or buy the minutes directly from HitLeap on a monthly subscription basis.
To get free minutes, you'll keep the application running and the websites will be looping automatically on a 10,20, 30 or 60 seconds interval. You don't need to do anything as the software will be running automatically. Once you hit the daily allowance limit (2,700 minutes), the traffic will be delivered to your site in about 10 minutes as Hits. It's not clear how many the 2,700 minutes are worth though.
Alternatively, you can just buy the hits directly from HitLeap. If you choose to buy, you can either get the whole traffic bundle at once or choose partial deliveries depending on your traffic needs and the quality of traffic you require.
HitLeap Features
While the concept behind exchanging traffic sounds simple, there are other features that HitLeap uses to enhance the process including:
Geo-targeting – You can filter your traffic based on country and location depending on your marketing needs.
Traffic Source – You can choose between Direct, Referral URL, Social and Search Keyword traffic while submitting your website to assist trackers, such as Google Analytics to track your traffic source more accurately.
If you choose Direct Traffic Source, you'll be getting entirely anonymous traffic and Google Analytics will show these hits as Direct hits.
So if you'd like site-specific traffic, (e.g. https://example.com), you can use the Referrer URL Traffic Source and Google Analytics will show the hits coming from the address you specify.
If you'd like social traffic, you can specify the social platform from which you want the traffic, and search engine metrics will be able to pick up on that.
If you'd like Organic Search traffic, you can use the Search Keyword Traffic source feature while submitting your site. You'll then be getting traffic based on the keyword you select.
Referral System – You can use the referral system to make money even if you don't have a website. You'll earn 25% of whatever your referral spends for the first time. So if they buy the $39/month package you'll immediately earn $9.74 credited to your PayPal account within 24 hours.
How Much Does HitLeap's Traffic Pack Cost?
As mentioned earlier you can buy Hits directly, as you can see below.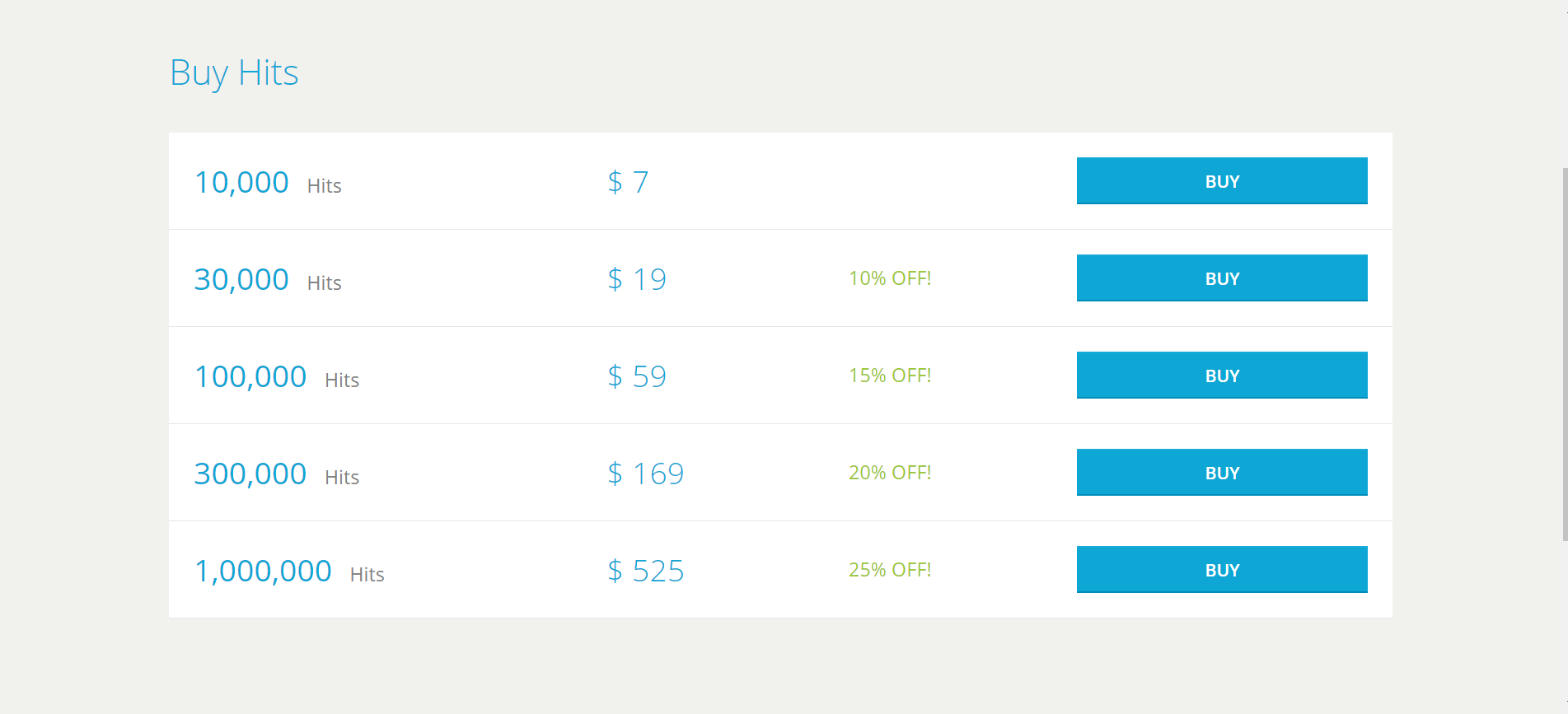 HitLeap's Hits Package RatesBut getting traffic is one thing, the quality of this traffic is a totally different story. So with HitLeap, you can additionally subscribe to a plan that may improve the quality of traffic they send you as you can see below.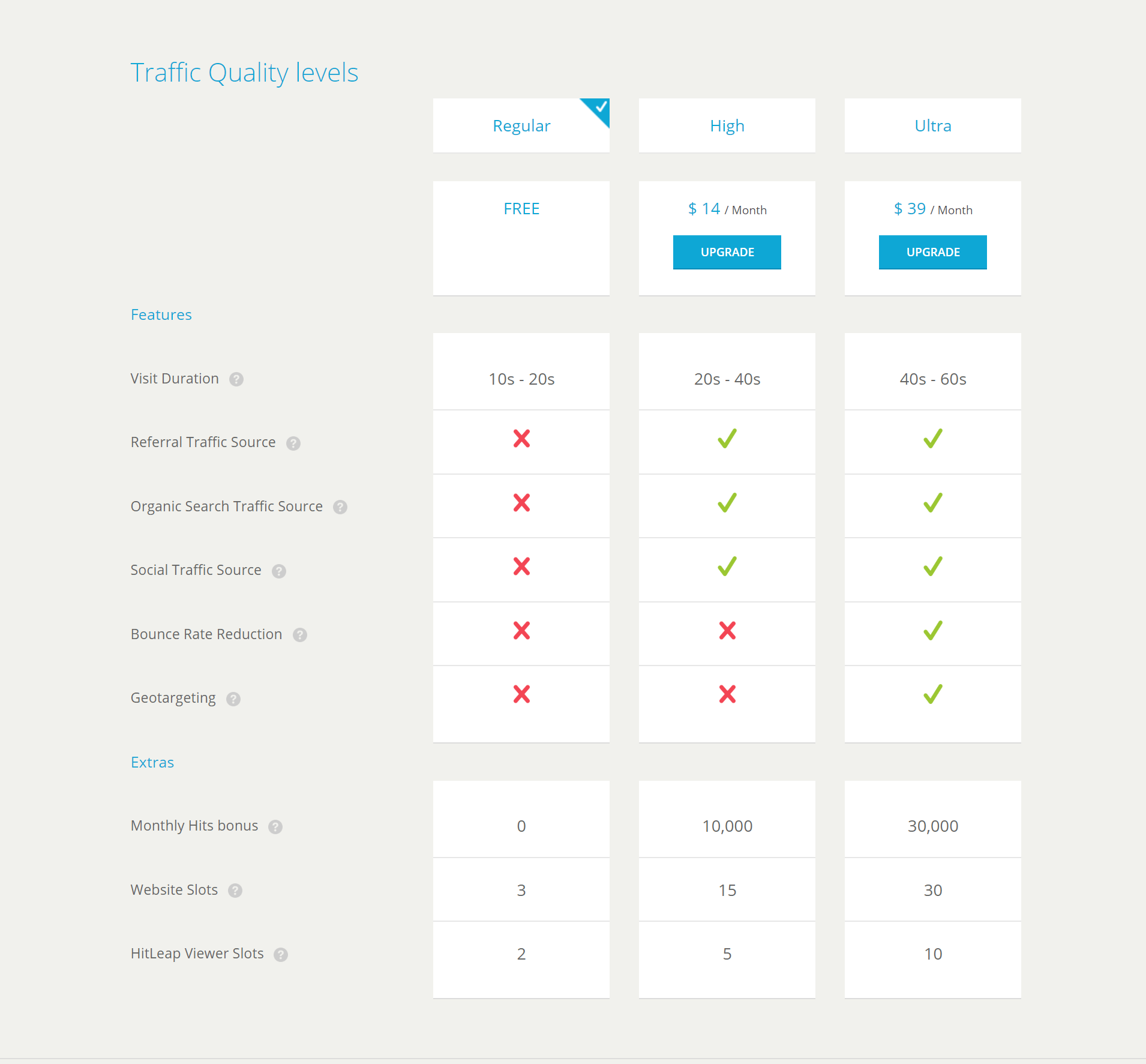 HitLeap's Traffic Quality Levels Rates
That said, even if you buy the most expensive pack coupled up with the highest quality unit, chances are this traffic may not be worth anything. That's because you're not really sure whether the visitors being led to your site
actually care about whatever your site is about.
With that in mind, did you know you can get free, high quality traffic from Google without spending a dime? You can join Wealthy Affiliate get the tools, training and strategies that will dramatically increase your site's organic traffic. So instead of buying low quality traffic, you can use Wealthy Affiliate to learn how to get high quality, organic traffic from Google that actually converts. Best of all It's FREE to get started. 
How Much Website Traffic Can Hitleap Deliver?
Well, it seems you can buy as much traffic as you want from HitLeap. But that's provided you're willing to pay for it. You can get 1 million Hits for $525 with no limit as to how many times you can buy the bundle. So in essence, the amount of traffic you'll get from HitLeap depends on how deep your pocket is.
How Do I Join HitLeap?
Joining HitLeap is free. You just need an email and password to create an account. To get started, go here and create your account. Once you confirm your email, you'll be able to download the application, log-in and get started.
HitLeap Complaints
Unfortunately, any traffic exchange network is bound to have its own problems. We rounded up the complaints about HitLeap so you'll be in a better position to decide whether the service is worthwhile or not.
Low Quality Traffic – Ultimately, regardless if you're buying the higher packages or if you're earning the traffic for free, it's probably not targeted traffic like you would get from Google. With organic traffic people are actively searching Google to find websites like yours. With traffic exchanges, you're just being put in front of anybody who may not have the intent of what your website is about.
That said, if you want to get high quality organic traffic from Google that actually converts, then definitely consider joining Wealthy Affiliate where you'll learn how to get free, high quality organic traffic from Google that actually converts.
No BBB Rating
At the time of this review, HitLeap is not a listed with the Better Business Bureau. I know that may be the final nail in the coffin to some of ya'll.
Is Hitleap Worth it?
I wouldn't encourage you to use HitLeap for the sole reason of increasing your site's traffic, and here's why. It's clear that people will just be viewing your site just to earn visits or money. That means the traffic is basically worthless in most cases.
But hey, if you just want traffic irregardless of the quality, HitLeap is one way to go.
Personally, I would stay away from HitLeap if you want targeted traffic that will convert. You're better off learning proper search engine optimization. Using the tools and strategies that get you tons of free, high quality traffic from Google. With that said you can join Wealthy Affiliate and learn all about increasing your site's organic traffic that actually converts. It's even free to get started.
Well, that' my HitLeap. If you still have questions about the service, you can visit their FAQs page. And finally, don't be a stranger. Feel free to chime in your thoughts on this or any other similar service in the comments section below.
Until next time
Eddy "with a Y"