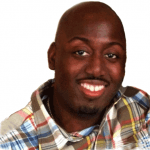 Hey,
I'm Eddy Salomon or better known as "Eddy with a y" around the web. Please note the spelling of my name so we don't have any issues. If you refer to me as Eddie, I might just cut you. Okay maybe I won't do that but I might ignore you. lol
In any event, I've been running a successful career related blog WorkAtHomeNoScams.com since 2003. If you've ever tried to research any type of work at home related opportunities, then you've probably run into my blog. I've helped people avoid a lot of crap because of my tell it like it is style. Furthermore because of the training I've received at Wealthy Affiliate, I've managed to earn a full time income with my little ol' make money blog. So I guess you can say I know a thing or two about blogging.
I started MoreBlogging.com so I can share my tips, tools and knowledge with good folks like you. Hopefully with this information will help you make more money with your blog or boost your traffic. Either way you will probably be entertained as you learn. If you haven't already noticed, I tend to be a smart ass in my writing. So if you're prone to get your panties or boxers in a bunch, feel free to leave now. I'll wait…
For those of you that are still reading, enjoy the ride! Clearly you and I are going to get along great.
Eddy with a y